Tiny Tales Pirate Workshop 28.6.17
Katherine from Tiny Tales came into our class. She shared a funny pirate story with us and we learnt some new songs and dances.
W/C 26-6-17
This week began with our annual sports day. The children enjoyed a morning of skills based activities in the playground followed by our races on the field. Everyone enjoyed the day and many adults commented on how well Year One participated and behaved throughout the day - well done Year One! This week we have been categorising animals according to their bodies. We looked at different animals and discussed their features. Then we learnt which were carnivores, herbivores and omnivores. In maths we have been adding and halving. The children have been working on their mental and oral Maths skills and some are really quick against the class timer.
On Wednesday it is pirate day, the children can come in dressed as a pirate and will take part in singing, dancing and learning pirate songs. Later in the week we will be writing about our favourite part of pirate day.
If you want to find out more about Tiny Tales and Tunes (who will be running the singing, dancing and storytelling) please look at their website -
http://tinytalesandtunes.co.uk/
W/C 12-6-17
This week we have carried out the phonics screening test. The children were very excited to do show off their skills and they made us all very proud. The results of the test will be sent home in your child's school report.
It has been health week, we have carried out wake up and shake up dances in the hall as well as tasting a variety of different fruits some of which the children had never seen before. In Maths we have continued our work on place value. In English we are reading the story of the rainbow fish.
W/C 6-6-17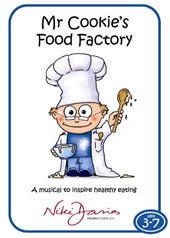 This week we have been learning our parts for our class assembly on healthy eating. We have been busy working on our acting, speaking and singing skills. Hopefully you will all enjoy our performance on Friday morning (9-7-17) at 9:05 am.
This half term Year 1 will be working with the Leeds Rhinos. Our P.E. session has changed from a Tuesday to a Monday to accomodate the Rhinos. Our topic for this half term is ''Under the sea'' and a pirate ship has arrived in the role play area which the children are very excited about.
W/C 22-5-17
This week we have been investigating the uses of salt. We halved different fruits then placed one half in a cup and covered it with salt and the other half in a cup without salt. We will observe what happens throughout the week.
In English we have been writing character profiles for Supertato and the Evil Pea. We used the prefix un and the suffix -est. In Maths we are making tally charts of our favourite fruit and creating pictograms to show the results.
W/C 15-5-17
This week we have continued our work on Supertato. We have changed the story to make our own version which we will write later in the week (please look at the photo gallery to see our Supertatos). In Maths we have continued with finding a quarter, this week we have focussed on finding quarter of a number. In Topic we have made some excellent fruit and vegetable pictures based on the work of Giuseppe Arcimboldo. Later in the week we will make and evaluate our fruit kebabs.
W/C 8-5-17
This week we have used the book Supertato as the focus for our English sessions. We have made our own Supertato characters and made and acted out a story map to help us to remember the sequence of events and story language. In Maths we have been halving and quartering shapes. To quarter shapes we used Michelle's idea of folding the shape in half then folding in half again to make four equal quarters. In topic we have designed our own fruit kebabs and investigated how clean our hands are (see related pictures)
W/C 1-5-17
This week we have been making cress heads. We stuck photographs of the children onto a pot then filled the pot with cress seeds. The children decided to investigate which area of the classroom would be best to grow cress hair. Most of the pots went next to the window, we placed some in a dark cupboard so we could compare hair.
In Mathematics we have been halving shapes and quantities. The children know that half of shape or a quantity has to be equal to the other half. This has proved tricky when cutting pizza and cherries. In phonics we have revisited the sound 'ee' focusing particularly on the split digraph e_e.
In topic we will be looking at what makes a healthy meal and sorting food into healthy and unhealthy.
W/C 24--4-17
This week we have been finding out what grows. We had a discussion in class about things that grow - flowers, trees, grass, apple trees, carrots. This led onto finding out how to make things grow. The children began cutting up fruit and vegetables to find seeds, they used some of the seeds to make pictures. Some of the children wanted to know what was inside a seed so they began cutting upp the seeds and comparing what they looked like inside. We have tasted the fruit and vegetables grown and used adjectives aa well as the suffixes -er and -est in our writing. In Topic we have continued finding out about the important work of Mary Seacole. We compared Mary Seacole's life with our own. In Maths we have been sharing and dividing numbers. The children have used their sharing skills to work out if Mrs Andrews had enough items for her party bags.
W/C 18-4-17
Welcome back, we hope you had a lovely Easter break. This half term our topic is 'Being Healthy'. Our class newsletter will be sent out this week with more information on what we will be learning over the half term.
This week in Maths we will be using and applying our skills of counting in twos, fives and tens. We will also begin sharing and grouping objects. In phonics we are revising the split digraphs, this week we will concentrate on the 'oa' sound which can also be spelt - ow, oe and o_e. The split digraphs (o_e) proves to be the trickiest digraph to spot and remember in words. In topic we will begin finding out about Mary Secole.
W/C 27-3-17
This week we have been writing a set of directions for the characters in fairy tale world. We have looked at the compass and used north,south, east and west to direct the characters around a map. In Maths we have been solving multiplication problems where we have been given the answer but have had to work out what the question was. In English we have written a set of instructions 'how to catch a porridge thief' and revised all of our phonics for this half term. On Monday we thoroughly enjoyed watching the Year 3 and 4 production. We have also had our Always Children assembly and also the attendance assembly where the children were given prizes for 100% attendance. Two children were also given prizes for getting 6 out of 6 each week on their spelling test. We hope you all have an egg-cellent Easter.
Our class assembly
31.3.17 We welcomed lots of our parents and grandparents into school to share with them the work that we have been doing this half term on traditional tales
W/C 20-3-17

This week we have been practicing our Times Tables! We know how to work out facts for the 2 and 10 times tables and have been using arrays to calculate other facts. In English we have been thinking of ways to catch the porridge thief, the children came up with some cunning ideas, lots of which involved slime! We will be writing up our detective notes this week before making a formal statement.

In P.E. we have learnt a short dance ready to show you at our class assembly. In topic we have been busy finishing off our giant's castles, flower pictures and out animations of our favourite traditional tale.
W/C 13-3-17
On Tuesday morning Mrs Andrews was shocked to see that her porridge had been eaten by a porridge thief! The children have been using their detective skills to examine the evidence left in the Year 1 home corner. We have taken finger prints and interviewed some suspicious looking members of staff. Mrs Mosley downloaded CCTV footage for the children to watch and from here they made wanted posters which have been displayed around school. The main suspects currently are - Miss Barnett, Miss Williams, Goldilocks and Mrs Sheard.
On Wednesday we had a thoroughly fun day out at the rainbow factory. The children watched and took part in a theatre production of Jack and the Beanstalk. They then helped the staff find the Elves' and the Shoemakers shoes hidden in the fairytale scenes. After this they made story dice, made actions to the story of Little Red Riding Hood and watched how an illustrator drew pictures and paintings for stories. The children had a great day out and their behaviour was superb! Well done Year 1!
W/C 6-3-17

This week we have been working on our subtraction skills. We had some money to buy Little Red Riding Hood's Granny some things as she wasn't feeling well. The children used their 'take-away' skills to work out what they could buy and how much money they had left over. In Literacy we have been using adjectives to write a character description, you will hear some of our descriptions at our class sharing assembly.
In topic we have been looking closely at the different parts of a plant, we have learnt what the different parts do and used our art skills to design and make a mask, there have been some scary looking wolves roaming around the classroom. On Friday we are going to begin making our own animations on the computers.
W/C 27-2-17

Wow what a busy week we have had already!

This week we have looked closely at 'magic beans' before planting our own beans. We decided what the beans would need to grow and have added water to our pots before placing them on the windowsill so that the sunshine would reach them. We then decided what might be found at the top of our beanstalks, some of the children decided it would be a unicorn, others said a spaceship, somebody even thought Darth Vader might be hiding up there! In addition to this we also put some of the magic beans in the dark to see whether they would grow, most of the children think that the beans in the dark will not grow. We have also been busy making castles out of 2-D and 3-D shapes for the giant to live in. On Tuesday the giant left his footprint in class, we measured how long his foot was and compared it to our own footprints. Some of the children have been busy mixing different shades of green to paint their own beanstalk, these can be seen in the classroom, please take a look during parents evening!

In maths we have been solving problems, we needed to find out how many golden coins Jack stole from the giant as well as how many magic beans we could add. In English we have been busy making our own story maps for our own version of Jack and the beanstalk. We will write our stories on Friday.

Thank you to all of the parents who made parents' evening, it was lovely to see you all
W/C 20-2-17

Welcome back, we hope you had a lovely half term break. Don't forget our class trip is this half term, thank you to the parents who have already returned their reply slip.

This week we are revisiting place value. In maths we have used equipment to represent a number and we can identify how many tens and ones a number has. In English we are reading the story Jack and the Beanstalk. We have made our own story maps and have made speech bubbles for Jack and the giant. We have created aliens and made our own real and alien words. In topic we have made plates of food for Jack and the giant. Tomorrow we will create our own art work that relates to the story ready to show you in our class assembly
W/C 6/2/17

This week has been assessment week. Wehave been busy showing off what we have learnt in reading, writing, Maths and spelling. In addition to this we have made odd and even aliens, these have been displayed in the cloakroom for you to see. We hope you have a lovely half term.
W/C 30-1-17
This week in Maths we have been counting in twos. We looked at the pattern and used our knowledge to work out other multiples of two. We also worked on odd and even numbers, we know how to work out whether a number is odd or even and can sort numbers to give to Odd Bodd (who loves odd numbers) and Even Stephen (who loves even numbers). Try to say the rap at home:
I'm a number cruncher and my name is Bodd, I like numbers when they're odd,
1,3,5,7 and 9, I think they are mighty fine.
I'm a number cruncher and my name is Stephen, I like numbers when they're even.
0,2,4,6,8 I think they are really great.

In English we have read the Indonesian folktale 'the faithful tiger'. We used pictures to retell the story and have made our own story maps.

In Topic we have used the shadow puppets we made last week to do a puppet show. We have also made an exploding volcano.
W/C 23-1-17
This week in Maths we have continued to work with money. We used our knowledge of counting in tens to calculate different amounts. Mr Viles charged us for our fruit again, this week there had been a price increase, the children set to work using their place value knowledge as well as counting in tens to pay for their fruit at playtime. In English we have been reading and spelling words with the 'ph' sound. We also found out about earthquakes in Indonesia and reinacted what we should do in the event of an earthquake, you can see the videos on our 'what we have been learning' page. In topic we watched a tradional shadow puppet story from Indonesia then began making our own shadow puppets.
W/C 16-1-17
This week we have been using our knowledge of the different coins and notes to buy and pay for items. The children particularly enjoyed paying for their fruit for their playtime snack. In English we have looked at non-fiction texts and used these to find facts about Indonesia. The children were particularly interested in the volcanoes in Indonesia and wanted to find out more about earthquakes. In our topic lesson we mixed colours to create paintings of Indonesian animals
Earthquake 24-1-17
Year 1 have been learning about earthquakes in Indonesia. We have watched video clips of what to do when there is an earthquake then role played what we would do if there was an earthquake whilst we were at school.
W/C 9-1-17
This week we have been looking at coins and notes. We know the value of different coins and notes and have calculated how much money is in a piggy bank. We have also solved a problem involving money.
In English we have explored information texts. We have written questions about Indonesia and used information texts to find the answers.
In topic we have been classifying animals and learning about the rainforest. Our role play area has turned into a rainforest and we have enjoyed looking for the different rainforest animals.
English
In Englsih we are looking at the story of 'Where's My Teddy?'' we are making our own storybooks and acting out scenes from the story as well as painting scenes.